Aluminum Coal Integration Project of Jiuka wind and power base of Jiuquan Iron &Steel Group
Time:2015-09-27 Click:4298
Construction Engineering of 2 × 450,000 Tons of Electrolytic Aluminum of Aluminum Coal Integration Project of Jiuka Wind and Power Base of Jiuquan Iron &Steel Group is China's first electrolytic aluminum project operated by Isolated Network, the successful operation of the project has great significance for our company and has brought significant economic and social benefits for the electrolytic aluminum industry.
The project has an annual output of 2 × 450,000 tons of electrolytic aluminum, electrolytic series utilize 500kA electrolyzer, each series installs 336 units, the first electrolytic series has nine rectifier units; the second electrolytic series has eight electrolytic rectifier units. The project uses 17 sets / 34 units of KES-2 × 45KA / 1480V Rectifier Cabinet, 17 sets of KZX10-12 Unit Steady Flow Control Cabinet,
3 sets of ZX-110 Series of Master Control Screens, 3 sets of grid stability control device and 2 sets of rectifying automation monitoring system of ZL-200 position machine.
Its control strategy is mainly completed through the coordination and cooperation between the FM device of rectifying system and secure system when operating under Isolated Network. Functions of the FM device: It is mainly used to electrolytic aluminum control system of the Isolated Network so as to deal with abnormal frequency caused by the voltage of electrolytic aluminum effect and cast back of major electrical equipments, the frequency can be stablized through the ajustment of electrolytic aluminum load. FM device directly collects real-time frequency of power grid, conducting load adjustment based on the setting value of acquisition frequency. FM device should assist the generator to adjust just one time to stablize the frequency within the range of FM deadband (49.8 ± 0.2Hz) when the frequency is among 49.5Hz~49.0. It belongs to the frequency fine ajustment operating system. The advantages: Fast adjustment rate, high precision, short frequency recovery period, while decreasing once FM operating frequency of the generator set, reducing the mechanical operation and increasing the lifespan of use.
Load shedding with the security control strategy: Conducting load shedding with the security control when the power grid occurs major load losses (malfunction of network side's generator set ou load-side rectifier unit trips). According to load losses, safety control system makes corresponding adjustments of tangential electrolytic aluminum load to balance the powers between network side and load-side.
Generally, secure and stable system adopts double sets stepless load-shedding programme, namely primary and secondary load-shedding control system to ensure the effective implementation. Stepless tangential load mode, namely network side's load loss, needs to correspond the tangential electrolytic aluminum load after computing by the security control. When single series and single tangential load do not exceed to 50%, arbitrary load values can be shedded.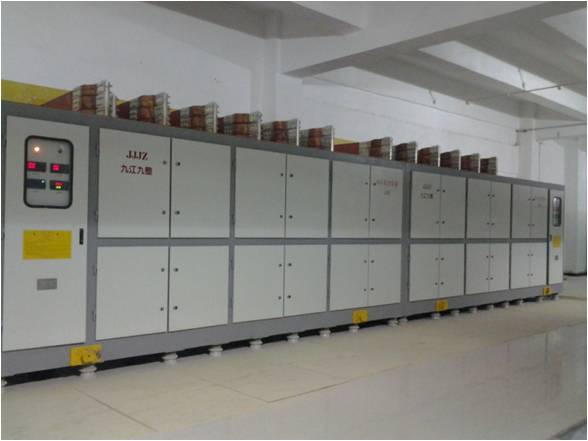 Dongxing Aluminum Industry of Jiuquan Iron & Steel KES-2 × 45KA / 1480V